SKINCARE + TRAVEL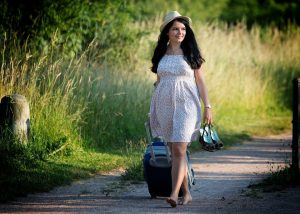 For most of us, skincare tends to be an essential part of our daily routine. Whether simple cleanse and moisturize believers or 12-step K-beauty aficionados, the majority of people perform some daily skincare steps. But what happens when we travel? Opinions differ between carrying one's own personal care routine vs. using whatever's available at the destination. Here's a 3-step guide on how to approach skincare when you're traveling.
Think about skincare as you would about your wardrobe
When we prepare to travel, we decide on what to pack based on the event we are traveling for – a corporate road warrior packs differently than someone traveling to a destination wedding – and we think about the weather at the destination. However, few of us think about how those same two criteria could impact our skincare / make-up choices.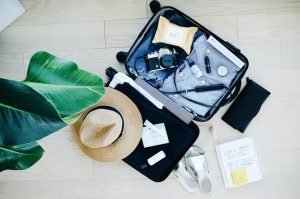 Warmer weather demands a different skincare routine than cold destinations. Humidity plays an important role in how skin responds to products as well. And formal events might mean heavier make-up while a simple, au natural look is perfect for beach vacations.
In general, for warmer, more humid places, keep skincare lighter – a simple cleanse, tone, treat routine sealed with a light moisturizer is perfect. For drier, colder climes, help nourish skin more by adding a facial oil or heavier moisturizer to keep skin supple and hydrated. And for all daytime activities, remember to pack an SPF.
Essentials vs. products that are changeable based on travel plans
Whether at home or traveling, simple essentials are the foundation of any good skincare routine. Nailing down the perfect cleanser, targeted treatment (brightening serum for dull skin or anti-aging oil for wrinkles) and go-to moisturizer will take the guesswork out of packing a reliable skincare routine. With make-up, a good concealer, mascara and a go-to nude color can help you look put together with little effort.
Some fun products to bring along for travel trips could be a sheet mask to help relax and destress after a day of meetings or of sightseeing. A mist to carry in your purse throughout the day can help skin feel refreshed on a tropical vacation.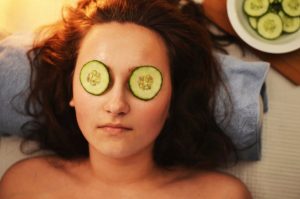 Finally, if time permits, it's a fun idea to try out the local beauty scene, whether with a spa treatment or local brands and ingredients. The concierge at your enVision property will be delighted to share ideas for local spas and brands!
How to pack skincare / make-up for a trip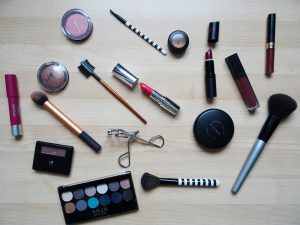 Apart from being TSA-size approved, travel containers should be spill proof, easy to fill, empty, and clean at the end of a trip and, have enough space to carry as little or as many of your tools as required!
If it's a short trip, a small soft cosmetic case such as this bright case from Lily Pulitzer or this clear case from Opening Ceremony can be perfect.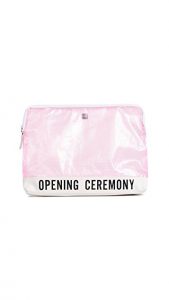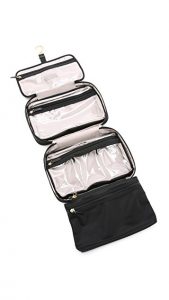 For longer trips, or those that need you to carry your entire set of brushes and 10 favorite lipstick shades, a case that has compartments or a hard-shell case might suit the purpose better.
For frequent travelers, it might be better to have a separate but duplicate stash of your favorites packed in a travel case, so that you don't have to pack and
unpack with every trip. Just grab the case, toss it in, and you're good to go!
Bon voyage!
About the author: Gayatri Pradhan is the founder of 100% plant-based, luxury skincare line Poéthique. Inspired by the beauty wisdom found in different cultures around the world, during her many travels, Gayatri uses unique natural ingredients such as caviar limes (from Australian rainforests), neem oil (found in the heart of India), sacha inchi (harvested on Peruvian farms) to make effective, indulgent, non-toxic skincare that works.
Poéthique is based in Wellesley, MA and can be found at Boston-area enVision hotels (with certain packages) and at www.poethique.com or in Instagram at www.instagram.com/poethique/