The Best Booze & Bites in Boston
Ask any Bostonian foodie where grab a bite or drink around town and they'll be able to give you a list of their favorite spots from each neighborhood. From handmade traditional style pizza, to local coffee grinders, to fresh seafood, Boston has it all. And out of the wide array of neighborhoods that Boston has to offer, each one has a distinct allure and cuisine that it's known for. Luckily our enVision Hotel Everett finds itself down the road from a true Boston neighborhood gem known as The Fermentation District.
Take a left out of the hotel and wander down the Revere Beach Parkway over to Santilli Circle. Head behind the famous Teddy Peanut Butter Factory and you'll be greeted with a cluster of delicious food trucks, breweries, a distillery, and a restaurant, all a stone's throw away from each other. It's a craft beer lover's heaven!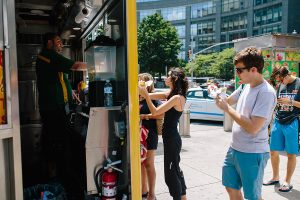 The only distillery on this list, Short Path comes in with an amazing cocktail menu crafted with local flavors along with gin, whiskey, and other liquors that their team makes on property. Situated in an old warehouse, the atmosphere rings true to our neighborhood's roots with an exposed brick interior, long rustic wooden tables and bar, and warm lighting which make for a great atmosphere to catch up with friends or go on a date.
Down the street from Night Shift you will come across Bone Up Brewing. Their taproom is cozier than the aforementioned Night Shift, but don't let that deter you from giving them a visit. They have a wide selection of rotating drafts, arcade and board games, and frequently have pop-up food vendors dishing out local treats like donuts, sandwiches, hot pretzels, and more.
On many nights you'll find a local food truck parked right outside of Night Shift's doors, and on warmer months you'll see many dog owners and cornhole players relaxing the evening away on the brewery's outdoor patio. The inside is warm and welcoming with 2 separated taproom areas, and the brewery always boasts an excellent selection on tap to choose from. We recommend their Whirlpool or Santilli brews as local favorites of our hotel staff.
Venture further into Everett and you'll come across the newest addition to Everett's beer scene: Down The Road. The label has made a name for itself with its fantasy themed beers and stories behind the names of their brews. A large assortment of pinball machines adorn the walls of their taproom along with plenty of seating and parking outside, making this a must-see for your Everett beer adventure. Give our team a call at 617-917-3400 to inquire about staying with us and going on your own culinary adventure. We look forward to welcoming you.